ITIL® Courses
Click on the course title below to be taken to additional information, schedules and registrations:
ITIL 4 Managing Professional Transition
All other ITIL 4 courses are scheduled as demand dictates. Please contact us at [email protected] to inquire about our schedule.
About ITIL Education
Value Shepherd sees ITIL qualification education courses as integral to your professional development. Training, along with mentoring and coaching is key to developing these essential capabilities. Our ITIL course facilitators are experienced consultants who share that knowledge with the students during the classes. Our real-life examples help anchor the knowledge and course interaction helps you turn that knowledge into pragmatic capabilities.  We use world-class materials that are developed based on adult education principles and not just PowerPoint slide sets.
We offer a first-class ITIL education experience in the classroom and online. The ITIL academic material is brought to life and augmented with practical tools and examples. We will ensure that you will be excited about the course and that you receive the information and the qualifications for which you are looking.
Our ITIL qualification pass rate is higher than average due to the fact that we use only the highest quality materials and our facilitators are all experienced in their fields.
ITIL Qualification Scheme
Click on the following image for more information on the ITIL Qualification Scheme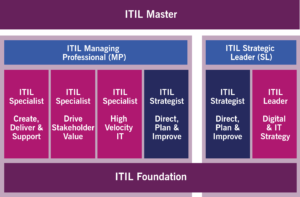 ITIL® is a registered trade mark of AXELOS Limited, used under permission of AXELOS Limited. All rights reserved.